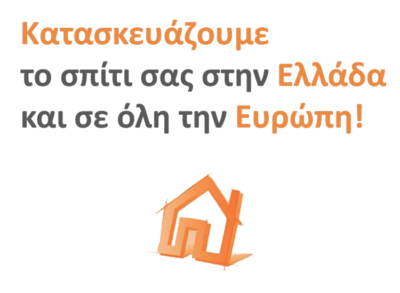 KOFINAS Prefabricated Houses
KOFINAS prokataskevasmena spitia
Calorific
A wish that, since 1977, KOFINAS company, gives you the opportunity to listen to it continuously and with pleasure.
For years now, the leading company in the field (KOFINAS prefabricated houses), leads you to your own pre-fab house quickly and above all at low prices. We have developed our own philosophy for the home – we see it as the outer shell of man, which should be in harmony with the natural environment. A house designed based on modern architectural trends, with comfortable and functional spaces, in just a few square meters combined with the ecological choice of materials we use for its construction, acquires a non-negotiable value.
For us, wood is the king of materials. The feeling created by staying in such a previous house cannot be explained, it is simply experienced. Home for you and your family to live in or holiday home for your relaxation. We have a wide variety of designs from pre-made, ready to adapt to any personal choices and requirements. In the KOFINAS range you will also find options for wooden houses with high resistance and low energy consumption. The possibilities for arranging the spaces are endless.
KOFINAS Prefabricated
Our goal is not to build more homes, our goal is to build better homes!
The Kofinas company innovates without resting. Constantly entering new elements in the construction of houses, which are recognized and "are certified", both from our hundreds of satisfied customers and from the National Technical University of Athens, where the unique building system of the Kofinas company was tested for its durability surpassing any natural limit of endurance.
As part of a global development, the company has also focused on the energy sector of construction.
Zero contamination footprint
The ecological footprint it is a way to measure the effects of human activities on the earth. It is the measure of demand and consumption that measures the coverage of a society's needs, as well as the waste and greenhouse gases it produces every day. KOFINAS SA, on the occasion of its new factory, wanted to zero pollution to the environment and to have zero waste during the production of masonry.
It achieves this through machines where it utilizes the solid wood waste generated during the production of masonry by recycling it into wood pellets. Which she then distributes to her staff.
Recent Projects
03 January 23
12 December 22
07 December 22
01 December 22
21 November 22
17 November 22
15 November 22
09 November 22
06 November 22
01 November 22
25 October 22
18 October 22
12 October 22
10 October 22
03 October 22