Why a Finnlamelli wooden house
Exclusive technology
---
---
We use laminate timber exclusively
At
company, we only use Finnish laminate logs for all our constructions, no matter how big or small, manufactured by the oldest and most experienced factory in Europe (Finnlamelli). The raw material is collected at the limit of the Arctic Circle, where the cold temperature conditions result in the creation of extremely hard and compacted timber, with great specific weight and great mechanical resistance to bending and crushing.
The laminate process reinforces these natural characteristics of the timber and the construction of your new wooden house by
company is clearly superior to the construction with usual solid timber.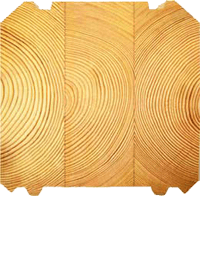 ---
Top collaborating factory
Our partner factory, Finnlamelli, is the oldest and most experienced wood processing factory in Europe. It is actually the first factory to introduce laminate processing to the market. The laminate logs that are manufactured have no chemical additions and the glues used are ecological and certified for use for house construction.
---
Quality and static adequacy guarantee
Our partner factory, based on the modern technology that it implements in the manufacture of the logs, can guarantee not only the static adequacy of the timber and the resistance to loads but also the resistance against aging. Our logs are very carefully selected in order to be in accordance with the required characteristics of the factory and of KOFINAS company and the laminate process is applied in order to enhance the natural capabilities of the wood.
---
Masonry quality
The Finnish log houses we construct are in accordance with the Finnish code of materials and construction, which guarantees for the best possible result.
Our excellent choice of materials along with the latest construction technology that we use in Kofinas company, result in a high quality masonry, which, providing a large range of sizes for every type of wall, can cover the energy efficiency requirements of every area, since we can provide the best possible thermo and sound insulation, reaching 0,23W/m2K.
---
Rehau frames
All the frames we use for our house constructions are made by REHAU, which is one of the top frame manufacturers worldwide.
Their products are known for their great resistance against time wear, their top humidity, thermo and sound insulation, their perfect functionality and their most advanced technology. At
company, we can offer PVC frames equipped with double or triple glass (with argon gas), which can reduce the thermal conductivity value down to 0,60 W/m2K.
Click here to see samples of the frames we use for our houses.
---
Energy efficiency
We can offer you numerous choices in order to improve the energy efficiency of your new house, which not only has an ecological impact, but also minimizes the household expenses, since you pay less for heating, electricity and water.
Moreover, the timber we use offers the best possible thermal conductivity rating for house construction logs (λ=0,12), and the same applies to the wooden frames of Rehau company that we have chosen for our constructions.
Below you can see the corresponding certificates (click for more details):
1. A-class energy efficiency certifications we have already received for our houses
---
Green Banking Portal by Piraeus Bank
The KOFINAS company by fulfilling the environmental, social and economic criteria, became a member of green entrepreneurship of the Green Banking Portal by Piraeus Bank. Piraeus Bank has created this space
to interact businesses and investors who are related to the "Green Business" and in particular with activities such as:
Renewable Energy Sources (RES)
Saving Energy
Alternative Waste and Water Management
Green Chemistry
Green Transportation
Organic Agriculture
Ecotourism – Agrotourism
---
Experimental research of masonry strength at the National Technical University of Athens
company does not settle for a theoretical study only but moves further, investing in the experimental research in collaboration with the National Technical University of Athens! In 2009, we tested the response of our building system against seismic action, using an earthquake simulator in the NTUA. The results were stunning, confirming the quality of our constructions.
In 2011, we move even further and make a new experiment for a more complex structure, which gave great results as well!
---
Health and ecology
All the materials used by Kofinas company are chosen so as to have the least possible impact on your health and the environment. That's why our timber is not infused with chemicals, the Knauf gypsum boards are made of natural gypsum and have been biologically checked by an international institution and the glues are certified for use for house construction.
We believe that the best way is the natural way and we apply this belief to each and every house we construct.
Furthermore, our collaborating Finnish factory plants three new trees for every one that is cut, in respect towards the natural environment.
Fire safety
A Finnish wooden house does not face a greater risk of fire than a conventional house. Numerous laboratory tests done in Finland (Technical Research Center of Finland – VTT) and in Europe, from public and private entities, have proven that the wood we use cannot be set on fire easily because it is a bad heat conductor and it is also a slow-burning material.
Wood houses actually have an advantage, compared to a reinforced concrete built house.
For a concrete building, a fire with the extreme temperatures that develop causes irreversible damage – at 250 °C the damage has already began and at 400 °C the building has half of its original strength. Because of the high thermoconductancy of this type of construction, the extremely high temperatures quickly reach every part of the house and combined with the toxic gases produced by the burning pose a great threat to the residents who have difficulty in evacuating the building.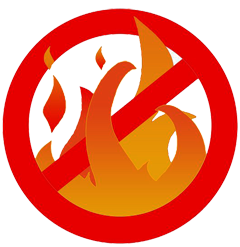 On the contrary, a wooden house will only have limited damage. The flame starts at 270 °C, creating a carbon layer that protects the rest of the wood until it reaches 500 °C, where the carbon is destroyed. The parts of the house that have been damaged by the fire can either be cleaned up or replaced and the static adequacy of the building remains intact. Furthermore, wood does not transfer heat to the rest of the house and there are no toxic gases, facilitating the evacuation.
---
• Anti-seismic design
Our laminate logs are manufactured with accuracy in our partner factory in Finland, according to the requirements of each client, using computers which minimize faults. Afterwards, the construction of the house is completed with KOFINAS company year long experience, providing houses of high static quality which are totally anti-seismic, compared to a usual house made of concrete.
---
• Choice of delivery stage
Every house
company constructs, can be delivered to the client in any stage he wishes:
• Kit form
• Stage 1
• Stage 2
This is a really advantageous option, since it can drastically reduce the cost of a new house. You can receive your new house in a semi-finished condition along with instructions for the remaining work to be done, but also with suggestions of craftsmen and crews that your can hire for this work!
Click here for more Wooden House Delivery stagesinformatiWooden House Delivery stageson about house delivery stages.
---
Unlimited kitchen cupboards and bedroom wardrobes
We offer you the capability to install unlimited meters of kitchen cupboards and bedroom wardrobes, without any extra charges.
You can choose between various colors and designs, in order to equip your house according to your personal taste!
---
Numerous certifications
company is certified by Greek and international institutions for all the materials we use and also for our construction.
This way, our constant quality and reliability, which characterize every house we build since 1977, is proved.
Click here to confirm the online D&B Profile™ of our company which is an international reliability certification. Also you can see the others certifications, like FSC CoC and 14001 which certifies that KOFINAS Company respecting its customers as well as the environment.
Click here to see our certifications.
---
• We build houses all over Greece and abroad
We can construct your new house in every in every area of Greece.
You can contact Kofinas company or any of our representatives for more information.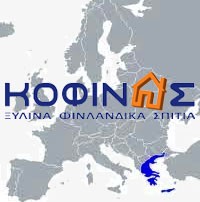 ---
We can construct every house design
The specialized engineers of
company can study and realize any house design, either brought by the client or created with the client's instructions.
There are no boundaries, so we can respond to every need there might be!
Alternatively, you can choose a house from our catalogue and use it or alter it according to your needs!
---
Collaborating companies
Our equipment is carefully chosen by the largest and most qualified companies, in order to abide by the standards Kofinas company has set.
---
Experience and successful course
Since 1977, we have been experimentally studying and improving our wooden constructions and our expertise. We are in position to offer solid and reliable solutions and we do not rest, but we keep moving forward with constant research and scientific experiments.
Our customer's satisfaction proves our successful course through time and the quality that describes the
brand!
1. Click here to see our history summary